Injection moulded from glass reinforced polypropylene for better strength.
Lever cam in Nylon, PVDF or SS - 304 - Optional.
Suitable available : 25mm(1"), 40mm(1.5"), 50mm(2"), 80mm(3").
Most economical compared to metallic couplings.
Useful to fertilizer, chemicals , Textile, Transport and Agriculture Industries.
Different end connections with different rubber gaskets available on request.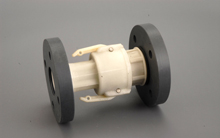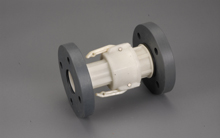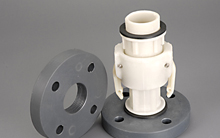 Universal Table Flanges & QVF Flanges For Glass Piping
Available in various sizes & type
Injection moulded in PP /GFPP for better strength.
Unique design to match D table, F table, and ASA - 150 standard in one flange and there by reduced inventory.
Extra collar provided with Flange (2" and above) gives more strength and pipe and flanges connection.
Heavy Duty. QVF Flanges in GFPP overcome corrosion as well as reduced dead load to the glass pipeline and thereby reduced of breakage.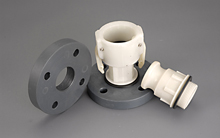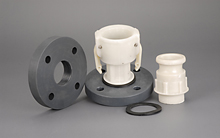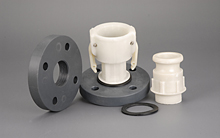 Metal bonded glass filled pp flanges under development.